"To dare is to do, to fear is to fail."   -John Goddard
As January 1st approaches, I am contemplating what I'd like to accomplish during the coming year. Traditionally, as each year comes to a close, I spend a few hours reviewing the previous year and planning for the next. During this yearly ritual, my thoughts are invariably drawn to an experience I had in elementary school that had a profound influence on my life.
In elementary school, we would have two or three special events a year in the multipurpose room (cafeteria, indoor gym, and theater). On one such occasion, we had a world explorer and adventurer come and talk with us. He showed us some film clips of his adventures and talked with us about the importance of deciding what you want out of life and setting goals to achieve those things.
I didn't know it at the time, but this man, John Goddard, would go on to win world-wide acclaim for his accomplishments and be called "the real-life Indiana Jones" by the Los Angeles Times. What I took away from his presentation that day was the message that life could be a real adventure if you were willing to work to make it such.
For those of you who have never heard of John Goddard, his is a remarkable story.
In a famous interview given to LIFE magazine, John identified the catalyst that started his remarkable life of adventure. "All the adults I knew seemed to complain, 'Oh, if only I'd done this or that when I was younger.' They had let life slip by them. I was sure that if I planned for it, I could have a life of excitement and fun and knowledge."
So, on a rainy afternoon, when he was 15 years old, he sat down at the kitchen table with a yellow pad of paper. At the top of the pad, he wrote three words, "My Life List." He then proceeded to list all the things he wanted to accomplish during his life. When he was through, he had written down 127 goals.
Now this was no ordinary list of goals. To illustrate, here are just a few of them:
Read the entire Encyclopedia Britannica
Climb the world's highest peaks (he listed 16)
Build own telescope
Perform 200 sit-ups and 20 pull-ups
Play Clair de Lune on the piano
Visit the moon
Here is a link to John's original list of 127 goals (notice how many he accomplished!):
http://www.johngoddard.info/life_list.htm
I will be forever thankful that I had the opportunity to hear John Goddard speak at our elementary school so many years ago. His message resonated deeply with me. Unlike some of my classmates who already knew what they wanted to be when they grew up, I didn't want to "be" just one thing. I wanted to be many. John gave me the permission to think that way.
The road to an adventurous, multi-faceted life is not easy because, in this world, we are conditioned to "specialize" and be "practical." Those of us who don't want to follow that advice are often negatively labeled as (directionless, flighty, impulsive, undependable, etc.). For example, because I have changed careers—not jobs—four times, I have been the recipient of many of those labels from those who don't understand the path that I have chosen to walk.
Interestingly enough, today, when I conduct career planning workshops for displaced workers, I always conduct an informal survey at the beginning by asking this question:  "How many of you are considering more than one option going forward?" Consistently, 65-75% of participants raise their hands—regardless of their previous job title! These results suggest to me that many people are not content and happy when they "specialize" and live "practical" lives. Working with participants, I've seen some marvelous transitions—an engineer to a restaurateur, an HR manager to a pilot, etc.
Following John Goddard's example, I have created many lists over the years of what I wanted to experience and accomplish—and worked hard to achieve those things. As a result, early in my career, a newspaper wrote an article on me and my many interests:
https://dailyrenaissance.net/projects/mark-swain-renaissance-man-many-talents/
For the past 13 years, through my company, Daily Renaissance, I have helped people discover their potential and achieve their dreams. I frequently use John Goddard's remarkable story when I talk about setting goals—just as I did years ago when I was a Workshop Facilitator for DayTimer and FranklinCovey.
One year when I was setting goals, I felt strongly that I should write a letter to John Goddard and thank him for the incredible impact his life had had on mine. He responded by sending me an autographed set of tapes detailing his adventures, which I will treasure until the day I pass.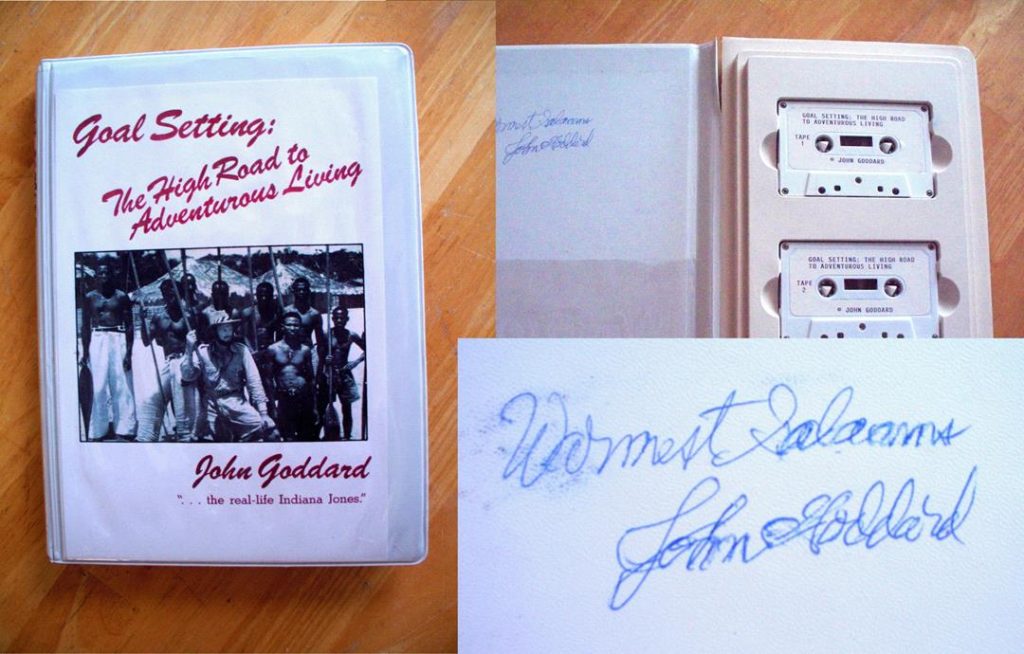 And on the topic of aging and our eventual demise as human beings, John offered us all some timeless wisdom:
"Everybody is so hung up on age…We associate so many frailties with age that they become a self-fulfilling prophecy. It's a cop-out. When somebody says, 'I can't do that—I'm 65 now,' I say, 'Nonsense!' "
"I don't believe in retirement."
John never listed his age on his resume—that was not his focus. He never did retire from life. John continued to deliver lectures on his remarkable adventures to audiences in Southern California (he lived in La Canada) until his health finally failed him at 88 in 2013.
You're probably wondering how John did on that list of 127 goals he made in 1940 when he was 15 years old. He lived to check off 120 of those goals including living to see the 21st Century!
Some would lament the fact that John didn't achieve all of his goals. He wouldn't. Many who don't know the deeper story of John Goddard's remarkable life don't realize that his list of 127 goals was only his first list! He wrote many additional lists during his life.
Goal setting is not about whether or not you'll accomplish all you set out to do—you won't! How could you? If you are serious about setting goals, you'll have an uncompleted list on the day you pass! Goal setting is about the kind of person you become by consciously deciding what you want out of life and actively pursuing those things. Great joy—and meaning—are in the journey—not just the destination.
Today, as I'm finalizing my list of goals for the New Year, I honor the memory of John Goddard—the man who showed the world that you can live a remarkable life, filled with adventure, if you have the courage and commitment to do so.
"To dare is to do, to fear is to fail."   -John Goddard
-Mark Swain
Daily Renaissance offers professional development workshops on these related topics:
Daily Renaissance–How to Become Your Best Self
Principles of Time and Life Management
For more information click here:
https://dailyrenaissance.net/professional-development-workshops/